Are you a fan of Fixer Upper style? Do you neutrals make your heart flutter? We have you covered with some chic neutral style from Taylor King. The transitional style frames strike the perfect balance between casual and refined, creating inviting and approachable environments. If you are a Black Southern Belle looking for some casual elegance this is exactly the inspiration you need. Get started designing today!
1. Dana Chair
"Stairway Heaven" fabric features a simple geometric pattern in cool shades of grey. A new "Mineral" wood finish perfectly compliments the woven rattan frame and looks beautiful floating in a room.
2. Julian Chair
The Julian Chair exudes style and grace with its curved arms and back, along with "Barley Cloud," a plush cotton-blend fabric reminiscent of shearling. The exposed wood frame and legs are finished in "Mineral."
3. Berkley Sofa
"Brentwood Vanilla" fabric lends a light-as-air look to the Berkley Sofa to brighten up any living space. Thin track arms plus an exposed wood base and legs give a delicate touch, finished in "Mineral" for a contemporary look.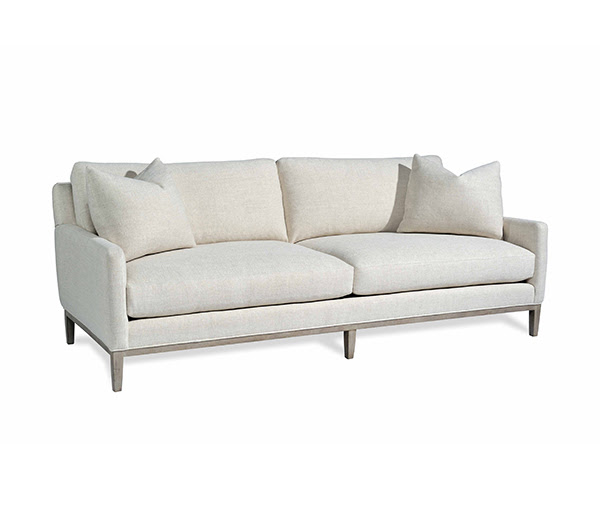 4. Denler Bed
The Denler Bed features the new "Mineral" finish over its seagrass wicker frame. The front of the headboard is upholstered in "A La Carte Flax," giving the design visual contrast and added comfort.
5. Brunswick Bench
"Wallace Marble" fabric features an ottoman weave that accentuates the width of the 75-inch Brunswick Bench, designed to fit perfectly at the foot of a king-sized bed. Bolster pillows on either end lend an inviting feel, while clean tapered legs in "Mineral" complete the look.
6. Quinn Wedge Sofa
The Quinn Wedge Sofa features a curved frame for a unique design element. Perfect for floating in the middle of a space, the Quinn Ottoman fits perfectly into the curve, either solo or in a pair. Shown in "Allspice Dove," this low maintenance performance fabric catches the eye with its soft, heathered appearance.
7. Carmel Sofa
Upholstered in "Slubby Linen Linen," the Carmel Sofa features a clean-lined skirt that gives an ethereal, floating effect. Transitional design elements make it fit in with many styles of decor. Accent pillows are shown in "Siam Plaid Mineral" a large-scaled plaid in cool tones of beige and blue.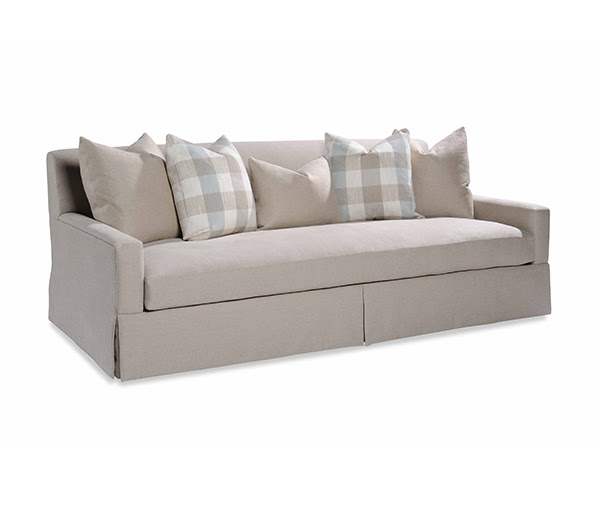 8. Witkop Bench
The perfect accompaniment to the Carmel Sofa, the Witkop Bench features a tailored skirt in "Siam Plaid Mineral," coordinating with the Carmel's accent pillows.
Advertisements
0
Comments
comments