Are you looking to add some classic lighting pieces to your home or wedding registry? We have exactly what you are looking for with this beautiful round up of marble lamps that you must add to your collection. These pieces provide the perfect inspiration for any living space and are great investment pieces for a homeowner.  Check out these beautiful pieces from Bradburn Home and make sure to add them to your Pinterest boards!
1. Marble Cove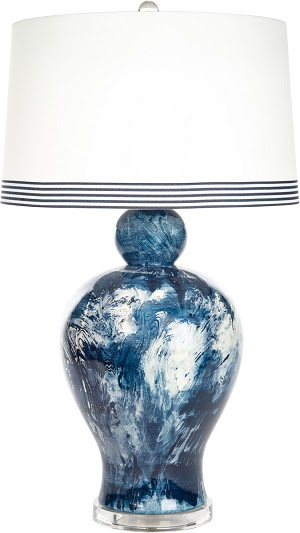 Available in a simple white or white with a navy stripe monarch trim at the bottom, the Marble Cove Lamp displays a rich navy and white color palette which is hand applied to create the faux marble effect. The hand-painted process onto moisture-controlled clay from Nove, Italy ensures no two lamp will look alike. 31.5" H
2. Blue Monterey
Made with moisture-controlled clay in Nove, Italy, the Blue Monterey Lamp highlights the graceful veins across its curvaceous gourd shaped base. A crystal mounting and an off-white cotton drum shade with matching blue trim keep the attention on its swirled base. 29" H
3. Wyndham
The Wyndham Marble Lamp mirrors abstract art with its hand-painted faux marble pattern that melds cream and indigo hues together. A gilded raised relief mounting and gold leaf acorn finial elevate the design to the next level. 30.5" H
4. Matisse
The Matisse Lamp transforms its faux marble pattern into a holographic palette to create a dynamic optical illusion made apparent by etched lines across its glass base. A rectangular linen shade and a crystal mounting finish the look. 26" H
5. Gray Marble (also available with a white shade)
 Shown in either a black or bright white Shantung silk drum shade, the Gray Marble Lamp creates its swirled pattern on a moisture-controlled clay base which is then hand-painted with a cream-colored layer. A gold painted finial and mounting add a luxe touch. 34" H. Available exclusively on onekingslane.com.
6. Gala Blue (also available as bowls)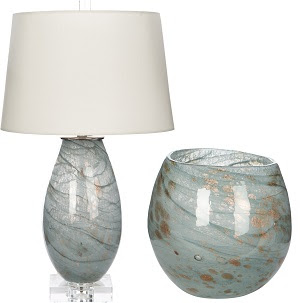 Achieving a marbled effect through hand-colored glass in soothing spa blue, the Gala Blue series adds another layer to the marble pattern with subtle gold flecks scattered throughout the design. A crystal mounting and finial maintain the design's levity. The Gala Blue is available as a lamp or a bowl in two different sizes.
7. Barrington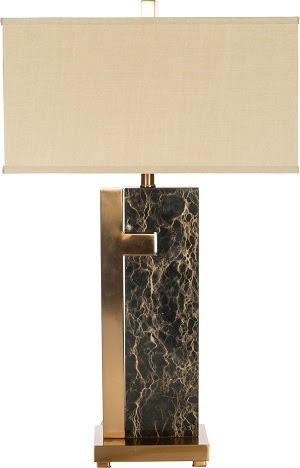 Designed by Barclay Butera for Bradburn Home, the Barrington Lamp lends an industrial, masculine touch with its sleek brass elements that accentuate the similar coloring on the richly veined brown marble slab. The angularity of the design continues to its rectangular shade and square finial. 31" H
0
Comments
comments