Are you a southern transplant living in a New York, LA or DC who wants to embrace her stylish southern roots in a small place? We have some tips to help you get big style in a small space. No matter whether you live in a studio apartment or a small condo, you can show of your love of decor and infuse a little southern style into your chic city life. We have some tips from Hancock & Moore to get you started!
Choose an oversized print: Small prints on a piece of furniture can end up making it look even smaller, so go the opposite direction and pick something large and overscaled, like the Parliament Chair from Hancock & Moore. It makes more of a dramatic statement than a small print that clouds your line of sight.
Be mindful of proportion: When you live in a small space, every inch counts. Pick pieces that maximizes storage or seating space so every inch is used. The Edgewater Sofa (see attached) has 3" wide arms on an 83" wide design which allows up to 5 guests to sit comfortably.
Keep your accessories to a minimum: The last thing you want to do to a small space is make it look busier with assorted home décor accents that have no meaning or intent. Choose accessories not for the sake of having them but to lend a finishing touch to your overall style. Meaningful items that you've collected over the years carry more weight than little tchotchkes that you've purchased at all once at a home goods store.
Go big, not small: Contrary to popular belief, do not furnish your small space with many small items. Having many small-scale pieces clutters the room and makes it appear even smaller. Instead of little ottomans and occasional chairs strewn about the room, have one or two big pieces that anchor the room, like the Sola Wing Chair (see attached) that makes for a centerpiece in a room without taking up too much room. Because really – are you going to entertaining guests all the time that you need that many ottomans and itty bitty chairs lying around?
Play with negative-positive space: Choose pieces that are light and airy, whether it's a sofa with tall slender legs like the Ronan Sofa or a chair with slim open frame wood arms like the Conclusion Chair. This way you don't sacrifice space and comfort for bulky items.
Here are a few of our favorite pieces from the newest Urban Logic 2.0 x Hancock & Moore. Hope you enjoy and happy decorating!
1. Parliament Chair
2. Clara Chair
3. Sola Chair
4. Conclusion Chair
5. Catcher's Chair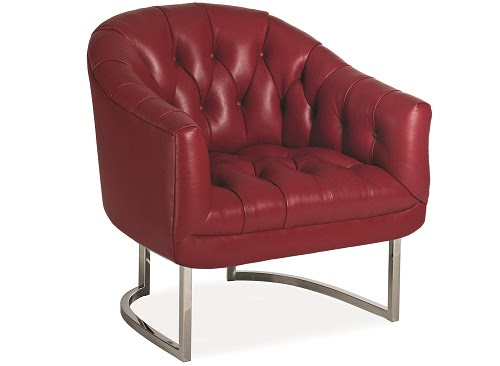 6. Burns Chair
7. Edgewater Sofa
8. Fulton Sofa
9. Ronan Sofa
0
Comments
comments
Advertisements